Frequently Asked Questions
Are the paintings signed?
Yes, All the paintings are signed in the lower right corner by artist J. Charles. Original paintings are signed in gold while a limited edition Giclee is signed in silver including the unique limited edition version number ranging from 1 to 50.

Original paintings gold signature actual size

Limited edition silver signature w/version #
Do the paintings come with a Certificate of Authenticity?
Yes, Each original work of art purchased from the J. Charles Gallery includes both a signed and dated personal letter from the artist and matching Certificate of Authenticity.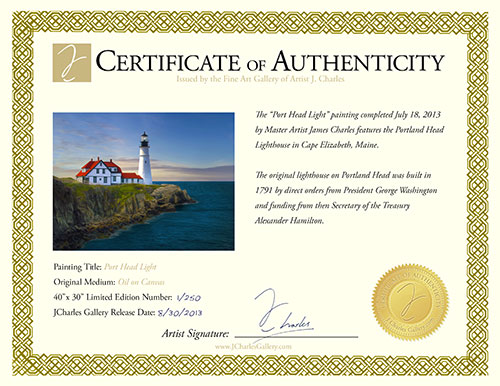 COA example
How do I know if an original painting is available for purchase?
If you visit a particular paintings detail page and notice a purchase option entitled: "42" x 32" Original Master Painting", the original painting is still available for purchase. Once the original painting is sold, the option to purchase a one of a kind original painting is removed.
How is a limited edition Giclee produced?
Your J. Charles limited edition Giclee work of art is produced using the same standards museums use to produce fine art reproductions. The museum quality Giclee is produced upon request using the finest color-fast archival pigments on premium linen canvas. The canvas is hand stretched and secured to solid hardwood stretcher bars. A clear protective varnish is applied to seal and protect the artwork.
How long will a J. Charles Giclee last?
Your Giclee painting is designed to remain in pristine condition for at least a quarter millennium without the risk of fading, cracking or flaking. The exact color standards used to produce a Giclee insures an identical color match to the original painting. The use of non-acidic canvas insures the artwork will not yellow or discolor with age. A clear protective finish seals the canvas and protects the art work from fading and scratches. The use of premium materials insures your artwork will remain in museum quality condition for many future generations.
How do I order a custom frame?
From a paintings detail page, you can browse and select an individual frame and preview the painting in any frame style. Once you have decided on the perfect frame make sure the name of the frame is checked at the bottom of the page. Then Click the "Add to Cart" button and both the painting and frame will be added to your shopping cart.
How is my custom frame produced?
Your custom frame selection is hand crafted by a master carpenter using the finest of eastern hardwoods, lacquers and protective finishes. Your artwork is fastened into the frame and backed with a protective wall backing and pre-strung with a hanging wire. Your final framed work of art includes a weight appropriate wall hook with brad, making your artwork ready to hang upon receipt.
How long does it take to ship my painting?
Your oversized painting is custom packed and ready to ship in 4-5 business days. You will receive an emailed tracking number when your order ships. All artwork arrives fully insured within 10 business days.
Do you offer a replacement guarantee?
Yes. Your artwork is fully insured and is guaranteed to arrive in museum quality condition. If any accidental damage occurs during shipping, your artwork will be replaced at no additional cost. The J. Charles Gallery guarantees your work of art will remain as bright and vibrant as the day it was received or they will replace your art work free of charge.

How often are new paintings released?
J. Charles releases at least one new painting a month. You may check this site's "New Paintings" page or preview "Upcoming Works". You may also follow Artist J. Charles on Twitter @jcharlesgallery to receive instant updates.